Green Roof Fertilizers
Green Roof Fertilizer

The fertilizer intended for fertilizing roof gardens. The control release of long-acting nitrogen ensures a balanced nutrition throughout the growing season
The fertilizer is applied only once a year, usually at the beginning of vegetation period (early spring). Fine granulation, together with a low concentration of nutrients, ensures an even and balanced distribution of nutrition.


NPK Composition: 10-08-08 + 2MgO
Packaging: 15 kg
Dosage: 50 - 140 g/m²
Action: 10 - 12 months
Fertilizer granulation: 2 – 3 mm
Application: March-April

Benefits of Garden Boom Green Roof:
applied only once a year
supports faster involvement of vegetation after planting
increases the resistance of plants to the different climatic conditions
mixed fertilizer, some of the nutrients are immediately available, but nitrogen is released gradually contains magnesium
fine granules
Controlled release nitrogen: 75 % Polyon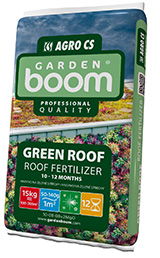 Green Roof Substrate 45 l

Střešní substrát je vyroben ze směsi kvalitních tříděných minerálních složek (zeolit, drcený keramzit) a rašeliny a má upravenou hodnotu pH.
Obsahuje dusík, fosfor a draslík ve stopovém množství.

Používá se jako vegetační pěstební substrát na extenzívní střešní zahrady ve vrstvě 3 - 30 cm, pro vysazování a pěstování rostlin vhodných pro extenzívní střešní zahrady.
Nejběžněji se používá vrstva alespoň 5 - 20 cm. Zakládání střešní zahrady nedoporučujeme v obdobích déletrvajícího sucha – v tomto případě je nutné alespoň zpočátku výsadby zalévat. Podle potřeby se může substrát přihnojit základními živinami a stopovými prvky.


Vhodný pro extenzivní vegetační střechy
Ideální i pro použití ve statických i mobilních nádobách
- Optimální hodnota pH s nižším množstvím živin (dusík, fosfor, draslík)
Balení: 45 l
Vydatnost: cca 0,5 m2 (při vrstvě 10 cm)
Paletové množství: 39 ks

Střešní substrát má nízký obsah živin, při jarní výsadbě se doporučuje do vegetační vrstvy zapravit startovací dávku hnojiva, např. Garden Boom Roof s dlouhodobým zdrojem dusíku, který je uvolňován postupně pro potřeby rostlin s dobou působení jeden rok.